COPY WRITING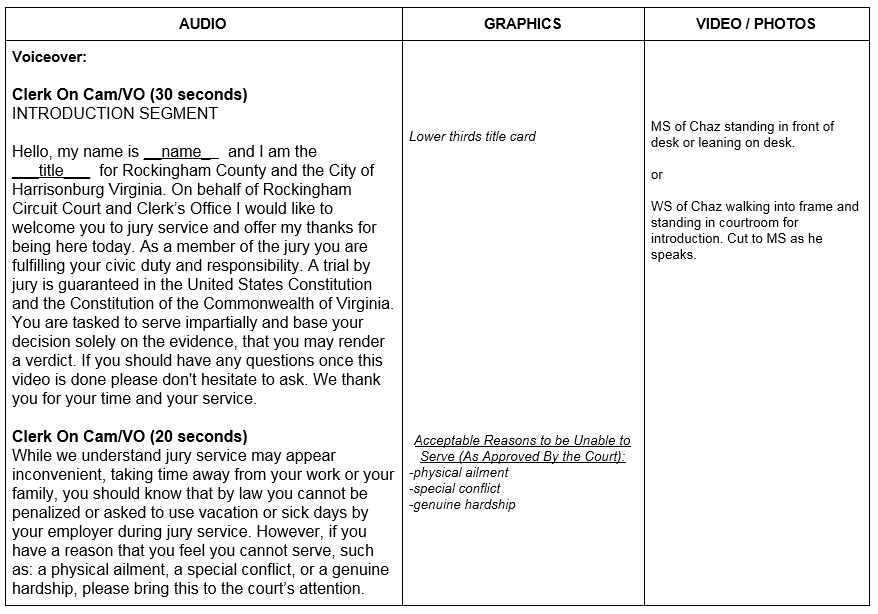 Rockingham County Circuit Court | Copy Writing for "Jury Duty" Video
​
In the fall of 2017, I was hired at Appeal Production as a freelancer for copy writing. My primary project was to write a script for the Rockingham County Circuit Court. They wanted to update their current video that they were using to explain the jury duty process to potential jurors. The video they were using at the time was out of date and too long in length.
To prepare for this project, I reviewed the video that Rockingham County was using at the time, and watched a variety of other videos created by other courthouses. This allowed me to gain a better understanding of the language, and the necessary message.
After I completed the first draft of the script, I was soon after hired into my current role at Appeal. Over the course of the first year, I helped with rewrites to the script, operated as script supervisor on site during the shoot, and managed the editing process with the client to ensure a smooth project delivery.
Watch the full video here:
Performance Food Group | Copy Writing for "Driver Jobs" Video​
​
During my first year at Appeal we worked with Performance Food Group to create two new employee onboarding videos. Much like the Rockingham County Circuit Court jury duty video, these projects contained a lot of industry jargon and verbiage that was important to be aware of before diving into the scripting process. This project took about 8 months to complete, and is one of the longer scripts I have written during my time with Appeal.
Watch the full video here: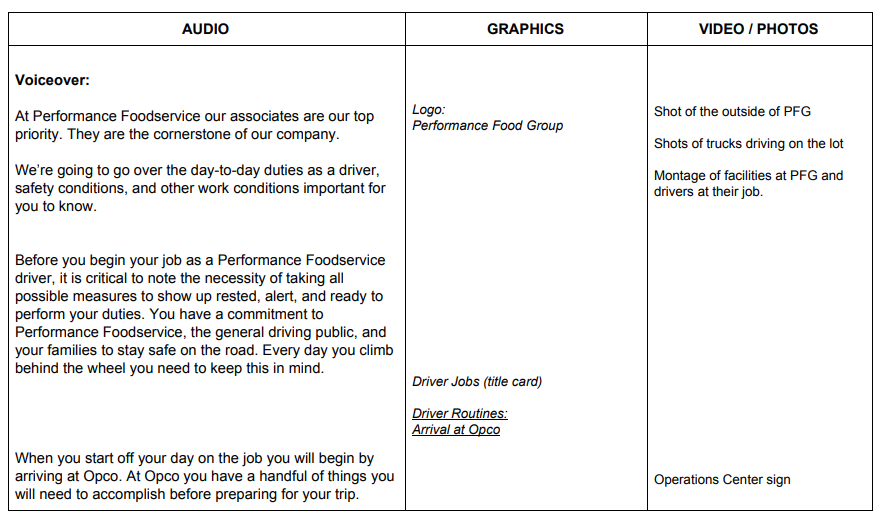 ​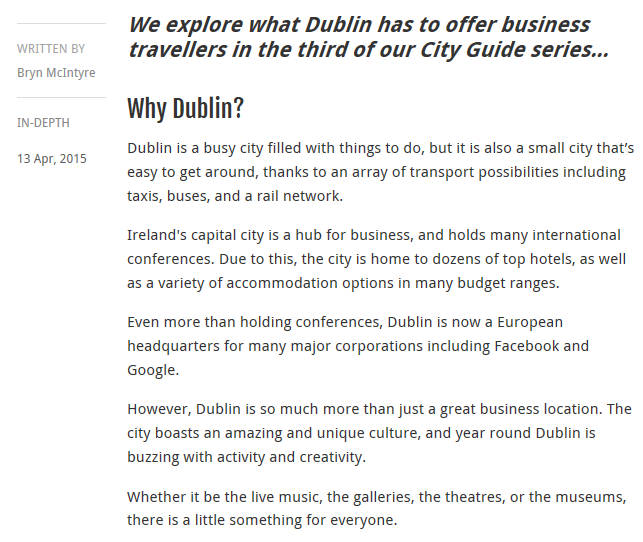 Dennis Publishing | "Things to see and do in Dublin"​
During the spring of my junior year I studied abroad in London, England. While I was there I had an internship at an online digital advertising company called Dennis Publishing. Dennis Publishing is an international media company that has many different business sectors. I worked as part of the team at their online magazine called, IT Pro.
While I was an intern at IT Pro, I helped with a variety of different writing and editing tasks. My primary roles were to help research new technological trends and update old articles to match current events. Towards the end of my time there, I was given the opportunity to author two articles on my own. The topics were for their City Guide series giving suggestions to frequent business travelers on how to get around in new cities. The two articles I wrote are titled "Things to see and do in Dublin" and "Things to see and do in New York". ​

Click Below for More Portfolio Samples